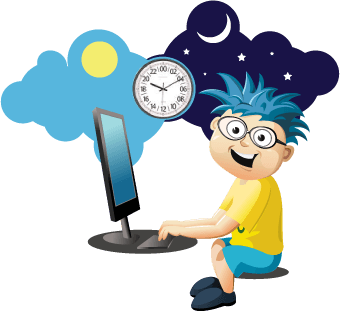 Help desk support
---
Bobcares delivers customer delight with friendly, lightning fast help desk support.
The customer is the center of any business. Lightning quick support that treats its customer well, is the only way to maintain a happy customer base that spreads the word around and grow your business. But how can you compete with large businesses that already have well entrenched 24x7 support system? Well, that's where we come in.
Bobcares uses your helpdesk system to support your end customers, helping you maintain a 24/7, responsive and expert support channel. 97% of tickets we handle actually are resolved within the first 60 minutes – with an average response time of 23 minutes.
Help desk support features
24/7 emergency administration
We maintain service uptime/quality by promptly restoring failed services, mitigating server load, fixing security issues, etc.
Service configuration assistance
With detailed step-by-step assistance, we help account owners setup or troubleshoot their online services .
Service performance assistance
When a performance issue is reported, we quickly find the bottle neck, and restore the service quality.
Account security assistance
We help account owners quickly recover from an attack, and restore domain reputation.
Crash recovery assistance
We assist account owners restore lost data through database repairs, mail box repairs, backup restores, etc.
Account setup and migration
We help new account owners quickly setup their services by providing detailed step-by-step assistance.
Wide range of expertise
We support all popular operating systems, control panels and billing software, like 
cPanel/WHM
,
Odin Plesk
, WHMCS, etc.
First contact resolution (FCR)
We aim to resolve all issues with the first response, and our team consistently achieve an FCR of 75%.
Quick response and resolution
We resolve 97% of tickets within the first 60 minutes – with an average response time of 23 minutes.
Account subscription support
We help your customers renew their services, upgrade their accounts, and help them choose the right service features.
Pre-sales support
We learn all aspects of your business so that every potential customer gets a clear answer for their pre-sales queries.
Customer sends an email to support@yourcompany.com which gets forwarded to your ticketing system.
A notification e-mail from your ticketing software triggers an alarm in Bobcares internal system.
Within an hour, the Engineer in your team responds to your ticket, if it can't be resolved straight away.
All tickets are resolved within 6 hours. In most cases, resolutions happen within 90 minutes.
All responses and resolutions are made via your ticketing system to ensure transparency. Should any sales queries come in, Bobcares engineers will escalate these to you or your designated sales staff, in cases where the team cannot handle it.
Bobcares Quality Manager and a team of Quality Analysts check through hundreds of tickets every month to make sure that all tickets follow our Minimum Quality Standards.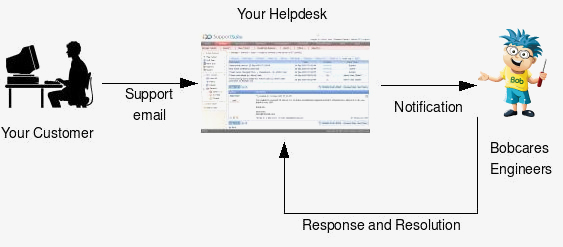 24/7 support availability
Lights are always on at Bobcares. Be it a holiday, a week end or the middle of the night, your customers get prompt assistance from a friendly support engineer.
White label support
All customer support queries are routed through your help desk, and your company's style of working is followed to achieve total integration with your support process.
Certified quality
Bobcares Quality Manager and a team of Quality Analysts check through hundreds of tickets every month to make sure that all cases follow our Quality Standards.
Stringent information security
Your customer and server information is sensitive; which is why we protect them using the strictest security standard in the industry – ISO 27001:2013.
100% engineers
The Bobcares help desk support team is made up of Computer and Electronics Engineers with years of experience in server management and technical support.
Personalized replies
When your customers need assistance, they expect a human to help them, which is why we do not use any canned responses. We address each support query with personalized replies.
Friendly, patient support
Bobcares techs are trained to understand the customer's state of mind. We build customer confidence and loyalty by giving each customer a patient ear and walking them through the solution.
Examples of help desk support
Client :
Hi Support,
I put one of your displays for a clock on my website at domain-name, but it doesn't display the correct time. What do I need to do to correct this problem? Would appreciate any help you can give me.
Thanks,
Stanley
Support team:
Dear Stanley,
I checked the clock and it does display the correct time. Presently the clock displays GMT. I made a small example clock program here http://your domain/time.shtml. Both the local time (the server is located at Maryland so the local time is EDT) and GMT are displayed here. If you compare it with your clock you'd realize that GMT is displayed. Ideally we would suggest you use some javascript based clock as it would display the local time where the user is browsing from.
Have a wonderful day 🙂
Regards,
Daniel
Acme Technical Support
Client :
Hi Support,
I can't find a pop e-mail box for my domain. In my info from Ya'll it says not to delete either the loseitright or the default e-mail boxes, but, I don't find either of them. Therefore my e-mail system isn't working. Please help.
Regards, Matt
Support team :
Dear Matt,
I did check your mail manager (in the control panel). You do have all the pop boxes as you have mentioned.
The two POP boxes are service@your-domain.com and customerservice@your-domain.com.
The default forwards mails to both these email IDs.
To check POP mail, configure the mail client (such as Outlook) as: Incoming Mailserver (POP) : your-domain.com Outgoing Mailserver (SMTP) : your-domain.com Username : service Password : <whatever you have set it to>
For the other POP box, namely customerservice@your-domain.com, all settings are the same except the user