Semi Dedicated Support
Your customers get instant, expert support round the clock, on any support channel of their choice.
Help desk, phone and live chat support
Server monitoring and emergency support
24/7/365 coverage
Our experts manage your help desk, live chat, and phone support for one low fixed price per month. We provide 100% white label tech support for web hosting providers, SaaS providers, and other online companies.
US based phone support
Our phone support team is based in Phoenix, Arizona. For hundreds of our customers world wide, this team provides the friendly, re-assuring voice of tech support 24/7/365.
Being the first responder in tech support is not an easy job. But this team of professionals rely on their years of experience to turn each customer call into a positive experience – which is why we consistently achieve an average rating of 4.3 out of 5 in customer satisfaction surveys.
Engineering services based in India
Our support team based in Cochin, India takes care of help desk support, live chat support and server management services. Over 250 service providers rely on this team to keep close to 47,000 servers rock solid, and to resolve over 52,000 support queries per month.
With an average resolution time of 23 minutes, this team resolves 97% of support queries within 1 hour, and consistently achieves a customer happiness rating of 93% in customer surveys.
ISO certified support quality
We're committed to delivering top-notch support quality. We re-invest 5% of our revenue in an ISO 9001:2015 certified QA system, where experts analyze 100s of tickets per month to continually improve support quality.
White label support
We help you setup support systems in your servers and use your company name in our responses so that our service is 100% white labeled.
Certified information security
We care about the security of your information. Which is why chosen the toughest security standard for hosting industry, ISO 27001:2013, to protect your customer info, server logins, service agreements, and more.
Our experts monitor your servers and support queue (email, chat & phone) 24/7. When a new support query comes in, we resolve the issue, and respond to your customers through your support system, thereby maintaining 100% transparent support.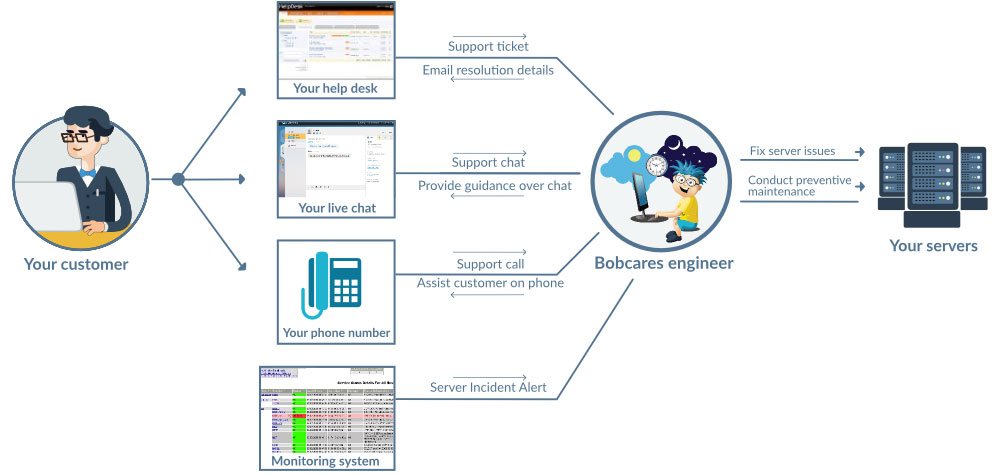 1 We monitor your support queue & servers 24/7, so that we're immediately notified of new customer queries or server issues.
2 Our experts respond to your customers from your support system, and fix the issue within a few minutes.
Supported Technologies
We support online businesses that include digital marketers, web hosts, data centers, SaaS companies, and more. With the wide scope of industries & companies we assist, we support a lot of technologies, both widely used & niche software. See all supported technologies.

Unrivaled Expertise and Collective Experience Of Over 250 Engineers
Like how you wouldn't trust a pharmacist to do a surgeon's job, we don't trust anyone who can spell "server" to manage your servers. That is why we insist on a degree in Computer Science Engineering for everyone in our team. In this way we know that when things get serious each member in our team can dive deep into their 4 years of hard-earned knowledge in Networking, Operating System, Coding and more to quickly engineer a solution.
One superhero is awesome. But then we went ahead and filled our ranks with more than 250 superheroes who help each other by sharing their knowledge and experience. That makes the Bobcares Engineering Services a formidable force in server infrastructure management. No matter what challenge comes our way, we'll have a solution, usually within minutes.
We know web hosting
Our team supports hundreds of web hosting companies like yours, with the support tailored to match their unique needs.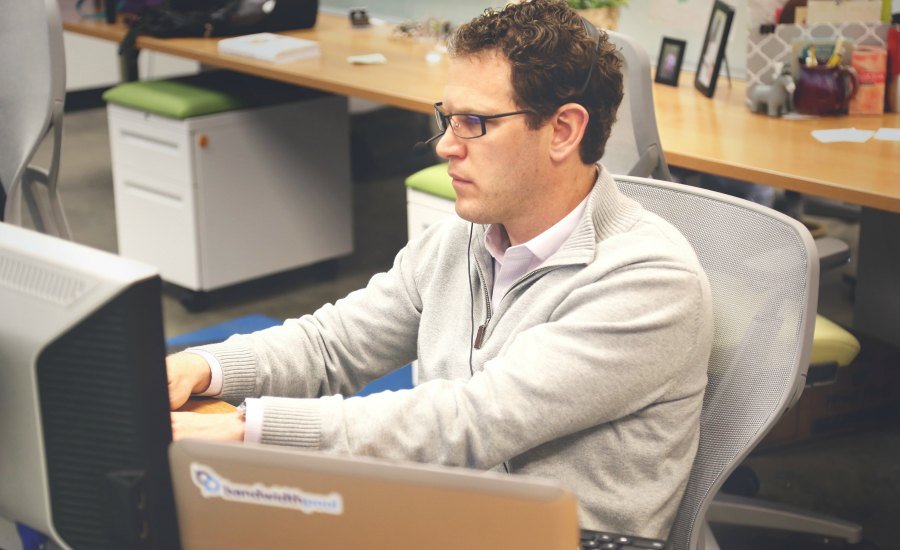 We champion small business
Bobcares started in 1999 as a small business, and we built our foundation by helping online SMB businesses make their mark. We value entrepreneurship and empower companies to grow.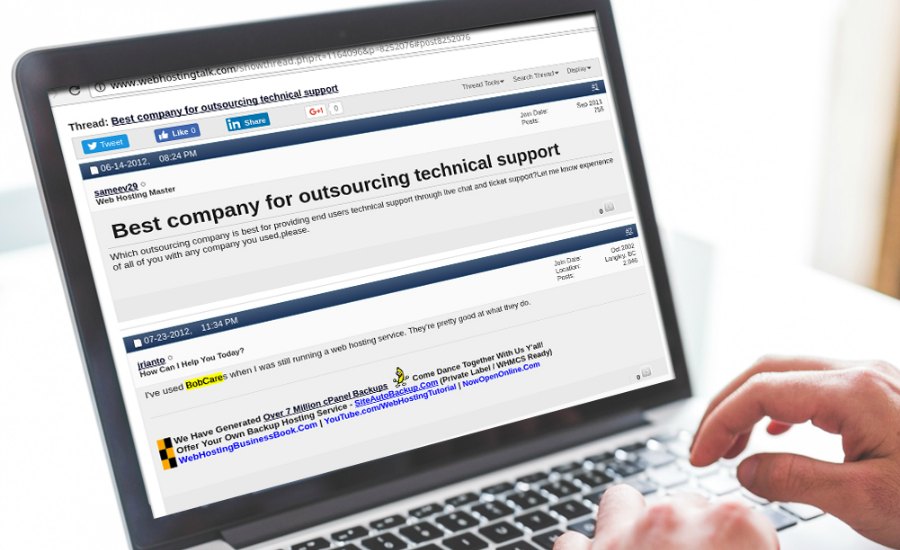 We are trusted
We've been consistently rated the top outsourced support provider for the past 15+ years. Over 250+ customers entrust us to resolve close to 52,000 support queries per month and keep their 47,000+ servers fast and secure.
Got Questions?
We'll be happy to answer. A support specialist will get back to you within 12 hours.