INSIDE BOBCARES
We turn your customers into your raving fans.
.
Each website is a 24x7 business, that depends on uptime to survive. We're here to help businesses thrive.
Bobcares has been synonymous with Customer Support and Services to Web Hosts since 1999. At this point, Bobcares directly manages over 3.5 million websites around the world, provides Linux and Windows administration services, and develops software for our clients. Bobcares engineers are passionate about their customers and work on a daily basis to provide unmatched service to website owners.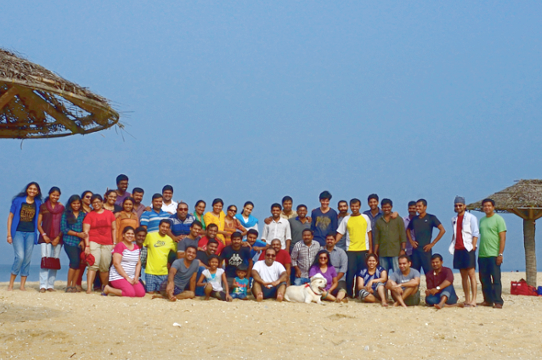 India Office
The Bobcares Facility in Cochin, India is equipped with improved Redundant Bandwidth and an advanced network. For uninterrupted power, Bobcares has invested in Backup generators for the entire facility and additional UPS for additional protection.
The entire facility and infrastructure is 100% owned by Poornam(parent company of Bobcares) and is not shared with other companies.
12,800 sq. ft. office facility, owned by Poornam.
Located in Kakanad, Cochin the Bandwidth hub of India.
250KVA Generator backup for smooth 24x7 power. The entire network is also backed up with APC UPS.
Gigabit LAN network and CAT6 cabling for networking over 200 workstations.
Hitachi Chiller air-conditioning systems for 24x7 optimal working environment.
Redundant radio links and under ground leased lines for 24x7 Internet connectivity.
The facilities and capacity is not shared with other companies.
Poornam Info Vision Pvt Ltd
Poornam Inc. / DBA Bobcares
US Office
The Bobcares US Facility is located in a Class A data-center in downtown Phoenix, Arizona. The entire facility is connected via four gigabit connections to our provider.
Our US based staff work round the clock to provide Level 1 support via phone to Web Hosting and Data Center customers.
WHAT PEOPLE SAY ABOUT BOBCARES
---
15 years with Bobcares and counting
We at 1stHostWeb.com have been with Bobcares for over 15 years and it was the absolute best decision we made. They are not just another tech service but more of a partner.
If you want a support STAFF that will represent your company with expert knowledge and compassion…look no further. Bobcares is all you need!
Glenn Lee
Bobcares is a strategic partner for my web hosting business
Bobcares has been part of our support solution for since 2002. We had grown so much that we needed a full time support staff. We looked at all of the options and outsourcing was the way to go.
We now regard Bobcares as a strategic partner in our company. They have truly become part of the GH1 Team.
We use Bobcares because we care about our customers!
Dale C. Crow
I now spend more time with my family
Since using Bob Cares we have had fewer customer's cancel accounts, and have had more new sign ups than ever before.
Best of all I have more time to spend with my family. BobCares goes above and beyond.
Thank you very much for every thing.
Jason Litson
Bobcares helps us meet our tough Premium 24/7 SLAs
We are very impressed by Bobcares and its management team. They are always professional and friendly, extremely helpful and highly responsive.
With Bobcares, we are able to keep our tough and technically very demanding Premium 24/7 SLA's for our large multinational and hosting customers.
They go above and beyond, and this is consistent from top to down. I can only highly recommend them.
Pascal Lauria
Great partner for remote-hands work
I am very happy with the services provided for our SaaS security products by Bobcares – we have found them to be a great partner for all support activities and remote-hands work. I would totally recommend this team!
Anirban Banerjee
Integral part of our online presence
I can honestly say that Vijin does a wonderful job, it would be difficult for Labour Guide to imagine our web page without him. I discussed your services with our IT department today, they really have only compliments and good things to say.
The team is an integral part of our online presence and provide excellent support. Nothing is a problem for Vijin and the team and they always provides feedback on our requests.
It is a pleasure and an honour to work with a person with the knowledge of Vijin. Thanks for delivering an excellent service. Bobcares are the best!
Andre Claassen
Bobcares solves issues within minutes
I have never been more impressed with a company than I have with Bobcares. Their techs are amazing. They get to the bottom of issues extremely fast, usually within minutes of submitting a ticket. I would TOTALLY recommend Bobcares to anyone.
Thomas Stempien
I can really count on them
Tharun and Hamish have been amazing. Totally helpful and fully engaged with me to overcome some very serious server issues. They worked extremely hard and did not give up until the job was finished. I can't thank those two gentlemen and their team enough for all of their tireless help and support! I feel that I can really count on them to be there for me when I need them the most.
Thanks again guys, you are awesome!
Philip Shapiro
Very good knowledge of Linux/System Admin
Bobcares services are Great, Friendly, Supportive, 24×7 Available. All Tech People are great & friendly too with very good knowledge of Linux/System Admin. Amar is very nice guy, and always ready to listen his clients requirements & suggestions.
Hemant Kumar