Outsourced chat support
100% white labeled tech support for online service providers.
Bobcares delivers instant technical support to your customers over live chat 24 hours a day, 7 days a week. The service is 100% white labeled, which preserves your brand identity by using your support systems and by following your support policies.
Technical support
Our team helps customers resolve a wide range of technical issues in all common internet technologies.
Emergency handling
Your customers get immediate response and continuous updates about service outages.
Low hold time
Each chat is taken within the first couple of rings, giving your customers instant access to support.
Personalized responses
We do not use canned replies. Each response is personalized to address the customer's specific question.
Friendly, patient support
We walk customers through the resolution steps, and stick with them until its confirmed as working.
Quick resolution
By using tried and tested troubleshooting steps, issues are resolved within 15 mins on average.
Account subscription support
Your customers get 24/7 assistance in subscription management issues such as service renewal, upgrades, etc.
Pre-sales support
We help you maintain a 24/7 sales desk where pre-sales queries are answered with convincing solutions.
We deliver 100% white labeled support by answering your customer's support requests using your support systems (we'll help you set it up if you don't have one). All responses in live chat are customized to reflect your company name, not ours.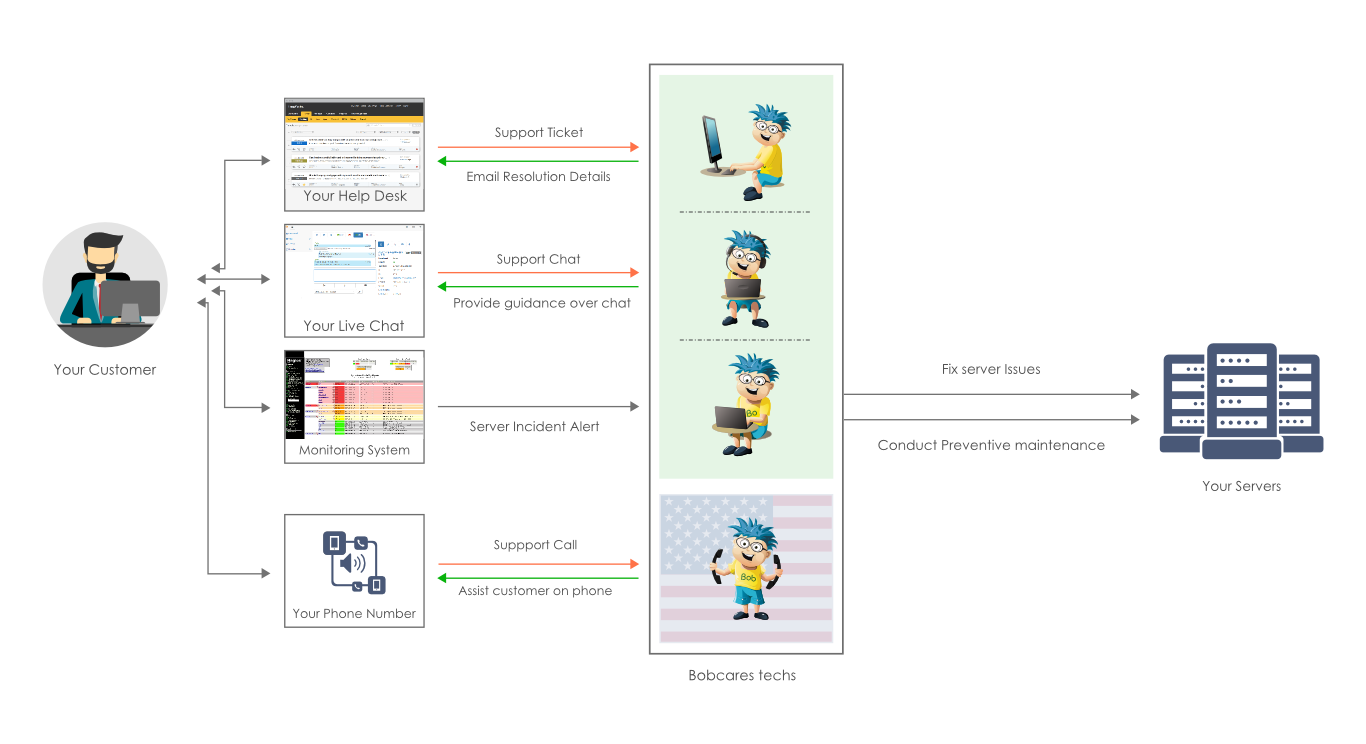 1 We monitor your support queue & servers 24/7, so that we're immediately notified of new customer queries or server issues.
2 Our experts respond to your customers from your support system, and fix the issue within a few minutes.
3 Servers are audited regularly to solve performance, security or other issues to minimize customer complaints.
Minimum order – 100 chats per month.
Need a different support plan?
We've got you covered. Click below and we'll send you a custom quote.
100% white labeled support
Personalized chat response
Support for unlimited servers
Windows & Linux hosting support
Technical & pre-sales queries support
Linux or *nix
Redhat / CentOS / Fedora
Debian / Ubuntu
FreeBSD
Cloud Linux
Windows
Server 2008 / 2012 / 2016
Office 365
Web servers
Apache
Nginx
Litespeed
IIS
Varnish
Database servers
MySQL
MSSQL
MariaDB
PostgreSQL
Galera / NDB
VPS systems
Hyper-V
KVM
Proxmox / LXC
OpenVZ
Xen
Virtuozzo / Parallels Cloud
SolusVM
Virtualizor
Cloud systems
VMWare
OnApp
AWS
oVirt / RHEV
Control panels
cPanel/WHM
Plesk
Direct Admin
InterWorx
ISP system
..and more
Web apps
WordPress
Magento
Joomla
DNN
..and more
Billing / Ticketing
WHMCS
OTRS
HostBill
SalesForce
..and more
Our customers our work
We leave no stone unturned to leave our clients starry-eyed!
15 years with Bobcares and counting
We at 1stHostWeb.com have been with Bobcares for over 15 years and it was the absolute best decision we made. They are not just another tech service but more of a partner.
If you want a support STAFF that will represent your company with expert knowledge and compassion…look no further. Bobcares is all you need!
Glenn Lee
Bobcares is a strategic partner for my web hosting business
Bobcares has been part of our support solution for since 2002. We had grown so much that we needed a full time support staff. We looked at all of the options and outsourcing was the way to go.
We now regard Bobcares as a strategic partner in our company. They have truly become part of the GH1 Team.
We use Bobcares because we care about our customers!
Dale C. Crow
I now spend more time with my family
Since using Bob Cares we have had fewer customer's cancel accounts, and have had more new sign ups than ever before.
Best of all I have more time to spend with my family. BobCares goes above and beyond.
Thank you very much for every thing.
Jason Litson
Frequently asked questions
1. Is the Live chat software setup on my server or Bobcares server?
The live chat software would be setup on your server. This gives you complete control on how your customers receive our service. You will need to provide operator level access to Bobcares techs to attend customer chats.
In case you do not have a live chat system installed, we can setup one up for you. We will suggest a live chat software that would suit your needs, and install it for a charge of $60.
2. I would like to have the ability to see all chats and responses to chats. Is this possible?
Yes you can see all the chat transcripts. In fact, we encourage you to review our service and from time to time provide feedback. We would like you to be 100% satisfied with our service.
3. Can you list the live chat software that Bobcares supports?
Most of our customers use