Outsourced chat support
100% white label tech support for online service providers.
Technical support
Our team helps customers resolve a wide range of technical issues in all common internet technologies.
Emergency handling
Your customers get immediate response and continuous updates about service outages.
Low hold time
Each chat is taken within a few seconds, giving your customers instant access to support.
Personalized responses
We do not use canned replies. Each response is personalized to address the customer's specific question.
Friendly, patient support
We walk customers through the resolution steps, and stick with them until its confirmed as working.
Quick resolution
By using tried and tested troubleshooting steps, issues are resolved within 15 mins on average.
Account subscription support
Your customers get 24/7 assistance in subscription management issues such as service renewal, upgrades, etc.
Pre-sales support
We help you maintain a 24/7 sales desk where pre-sales queries are answered with convincing solutions.
Supported technologies
We support online businesses that include digital marketers, web hosts, data centers, SaaS companies, and more. With the wide scope of industries & companies we assist, we support a lot of technologies, both widely used & niche software. See all supported technologies.
We deliver 100% white label support by answering your customer's support requests using your support systems (we'll help you set it up if you don't have one). All responses in live chat are customized to reflect your company name, not ours.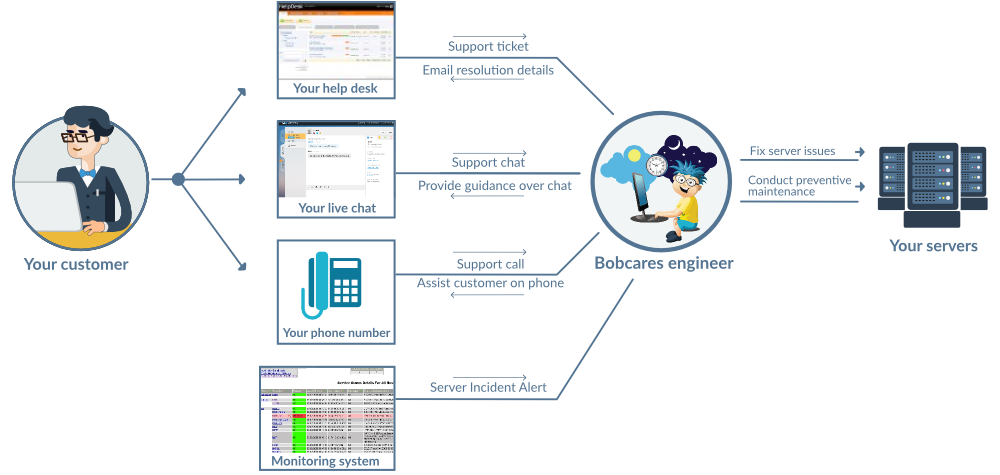 Support by Engineers, Computer Science graduates
At Bobcares, your business will be supported by certified Computer Science Engineers with extensive knowledge about servers, operating systems, networks and DevOps.
100,000+ servers supported
Over the past 20+ years, Bobcares has supported over 100,000 servers of website owners, web hosts, data centers and more. We achieved this growth by treating the business of each one of our customers as our own.
Certified by Cloud Providers
Bobcares continues to ensure that all our engineers are certified with emerging and highly used technologies. Bobcares has AWS Certified Solutions Architects, AWS Database Specialists, Google Cloud Architects as well as GCP Security Engineers and Network Engineers. We're the most recognised and reviewed provider of easy-to-consume server management services with these certifications.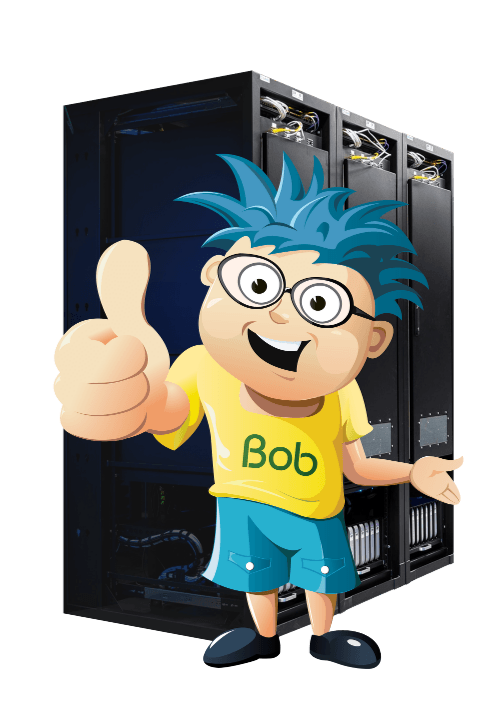 Market leader for 20+ years
Bobcares has a legacy for Outsourced Support. Since 2001, we established all the important benchmarks in quality support such as super fast responses, dedicated staff, and more.
Located in Phoenix, USA and Kochi, India
We run our front-line phone support operations from Phoenix, AZ with an all-American team, and the backend help desk support & server management from Kochi, India. This helps us reduce total support cost while not compromising on quality.
ISO 27001, ISO 9001 certified support quality
We're committed to delivering top-notch support quality as well as doing it in a highly secure fashion. Our experts analyze hundreds of tickets per month to continually improve support quality. Accompanying that, we chose the toughest security standard for the hosting industry, ISO 27001:2013, to protect your customer data, server logins, service agreements, and more.
Got questions?
We'll be happy to answer. A solutions specialist will get back to you within 12 hours.