Top quality technical support – ISO 9001:2015 certified
---
Quality not by trial and error, but by researched and proven international quality guidelines.
For Bobcares, a support query is not just a technical issue to be solved. It represents the trust a business placed on us to provide nothing but the best service in the world. To consistently achieve high quality, we adopted the internationally acclaimed ISO 9001 quality management system. Today, each support instance attended by a Bobcares support engineer is governed by the quality system provided by ISO 9001, and finely honed by our 14 years of experience in technical support.
  How quality is assured at Bobcares
A support engineer is chosen for a tech team after several levels of recruitment process, and a rigorous training schedule where they are required to excel in all areas of technical support.
Quality parameters are defined for technical support teams which includes definitions for thoroughness of resolutions, speed of resolution, quality of communications, etc. Each support query is resolved as per these guidelines.
A dedicated quality assurance team goes through hundreds of support instances a month to make sure each support engineer meets or exceeds the quality guidelines.
Bobcares Quality Manager oversees the work of the quality assurance team, and makes sure the standards are constantly improved year after year.
An external UKAS accredited agency (Intertek Certification Ltd.) audits the quality records annually to verify adherence to the international standard. Upon successful audit completion, ISO 9001:2015 certificate is granted to Poornam Info Vision Pvt. Ltd. (parent company of Bobcares) for one year.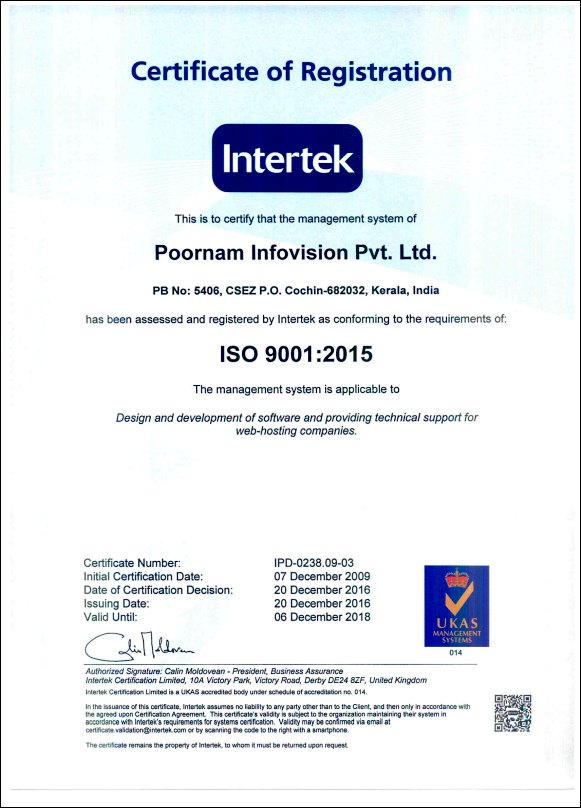 How ISO 9001 helps your business
A common standard governing each support instance ensures that you get consistent high quality of service regardless of who takes care of your support.
The standard ensures that you get fully qualified and trained support engineers taking care of your customers. No one will use your business as a platform to learn by trial and error.
The continual improvement process mandated by the standard ensures that the support engineers are always up-to-date with the latest technologies, and are ready to tackle any issue at a moment's notice.
The system necessitates a well defined hierarchy which you can use to fine tune quality targets to your specific needs.
Your customers get a support experience that is the best in the industry.
Get a FREE consultation
---
Looking for ways to improve your customer support?
Your business is unique, and so are your business challenges. Let us have a quick chat and discuss your business goals. We'll show you the most effective way to structure your support process, and the right tools you'd need for it.
Of course, there's no charge, no risk to you, no obligation whatsoever.
Lights are always on at Bobcares. Be it a holiday, a week end or the middle of the night, we are always here to take care of your business.
All customer queries are routed through your help desk, and your company's style of working is followed to achieve total transparency.
Your customer and server information is sensitive; which is why we protect them using the strictest security standard in the industry – ISO 27001:2013