Migrating emails to Plesk – Here's how to do it
Migrating the entire domain is pretty easy with Plesk Migration tool.
At times, when customer changes only their email provider, there is a need to migrate only email contents.
Doing this selective migration may not be easy and often end up in broken email accounts.
At Bobcares, we help website owners to do selective migration as part of our Dedicated Support Services for Web Hosting providers.
Today, we'll discuss the steps involved in migrating emails under the domain to a Plesk server.
How to migrate email accounts alone ?
Unlike a full account migration, the copying of email contents alone need special care in preserving the directory structure of email account.
Basically, there are two ways to migrate only the email contents to a website already setup in Plesk server. We can have a close look at each of them.
1. Migrate from Plesk Panel
The newer versions of Plesk provides a tool called "Site Import" for migrating email accounts.
Here, we can import mails to an already existing account or create a new email account on import. The exact steps for doing this are:
On Plesk panel, go to Domains > example.com > Mail Importing > Import mail messages;
Fill in the details of the source email account (username and password).
Choose "Import to" option – either "Existing email account" or "Create a new mailbox".
Click "OK".
The Mail Import interface in Plesk panel will look like this.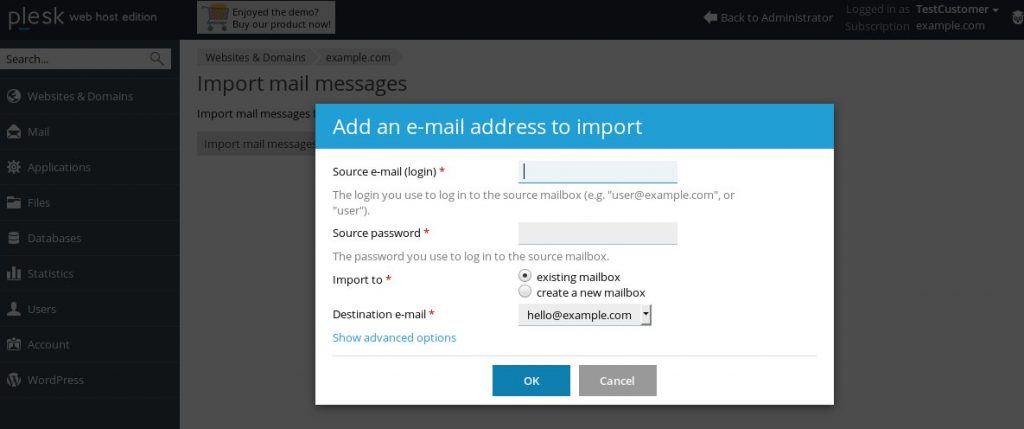 That's it. Emails will be copied from the remote server. The time taken largely depends on the volume of emails in the account.
2. Migrate from command-line
The migration of email accounts via Plesk Onyx panel works well when there are only few accounts to be migrated.
However, if there are many emails accounts, our Hosting Support Engineers prefer command-line options for mail migration.
This helps to save time as we do not have to load the panel each and every time.
Of course, to copy accounts via command line, we need root level access to the server in Linux machines and administration privileges on windows servers.
The command-line copying mainly involves two steps.
1. Create email account
First of all, we create the email account on the Plesk server using the below command.
plesk bin mail --create JDoe@example.com -passwd mypass -mbox_quota 50M -antivirus inout
To make the account creation faster, our Engineers use scripts to automate this process.
Now that we have created email accounts, the next step is to copy the actual email content.
2. Copy email content
POP and IMAP are the two most common mail account types on the internet. Because of this difference, the method of email copying also varies.
i) IMAP accounts
To copy existing contents of IMAP email accounts, we can use tools like "Imapcopy".
It maintains a configuration file called "ImapCopy.cfg". This file contains details of source server, destination server, email account usernames and password.
After modifying this configuration file with the correct details, we just have to run the command "imapcopy" and mails will be copied.
ii) POP accounts
But, in the case of POP accounts, users normally download mails to their computer. As a result, no mails are left in the server mailbox. And this eliminates the need to transfer messages between the servers.
If at all there is a need to transfer emails, tools like "pop2imap" really helps. It can migrate emails from a pop3 server to an imap server.
Also it is ideal to change the mail server of the domain first and then do the mailbox content copying. As a result, the new mails will show up in the mailbox on the new server. Also to avoid duplicate copies of mails in the mailboxes, we just append the mails to the new server.
Fortunately, we see that the structure of email accounts in certain panels like cPanel and Plesk looks alike. Hence, our Support Engineers replicate email accounts by copying content from CUR folder into corresponding email account folder in PLESK.
And the mailboxes work fine on the new server.
Conclusion
Mail migration to Plesk works well via Panel method as well as manually. Today, we've seen how our Dedicated Support Engineers effectively migrate emails to existing accounts.
PREVENT YOUR SERVER FROM CRASHING!
Never again lose customers to poor server speed! Let us help you.
Our server experts will monitor & maintain your server 24/7 so that it remains lightning fast and secure.