How to choose the right web support company – 5 point checklist
Managing a website can be hard. To keep your site business ready, you need to routinely optimize the databases, replace bulky plugins, renew SSL certificates, upgrade software, optimize pages for SEO, and more.
That's quite a lot of work, considering you still need to update your pages, product list and features to keep your site user friendly. But where do you get the time for all this when you have a business to run? That is why you need a dedicated expert to maintain your website.
Which leads us to the question : How do you choose a reliable website support company for your business?
Here's help. Follow this tried and tested 5 point checklist.
1. Is it a company, or is it a person?
What if you wake up one day to see your site hacked, and your web maintainer is unreachable?
It is not a made up scenario. Here at Bobcares, we receive many such website support requests where the regular "IT specialist" is either unreachable, or is on holidays, or has quit unexpectedly.
Individuals are hard to predict, whereas companies won't vanish one fine day. Even if one person quits or is unavailable, they'll have a backup option.
Companies have the manpower to offer 24/7 monitoring & support, which means you no longer need to sleep with one eye open. A tech company will have enough experts around (collective expertise) to quickly resolve complex issues that might come up.
When choosing a site maintainer,
Look for a company that has specific expertise in your web application (eg. check their blogs)
Check how long this company has been in existence. The longer a company has been in the industry, the more mature their systems will be to deliver 24/7 service.
Look at their reviews in web hosting forums.
2. What's the experience of this company in web hosting?
A good website maintainer should be able to advice you on the latest advances in web technology, and how you can leverage it.
For instance, did you know that you can reduce your website load time to less than half by using HTTP/2 instead of the traditional HTTP/1.1?
A company with extensive experience in web hosting and specifically in your web application and server stack can help you not just maintain your website, but attract more customers and accelerate your growth.
So, when looking for a support company,
Check if they support your web application and server technology? (Look at their blogs to know)
Ask for a free consultation on how they can help you. An experienced company can tell you exactly the kind of challenges you'll face (without you telling them), and tell you precisely how to fix them.
3. Do they offer all services you need?
Many companies provide 24/7 monitoring, but they won't restore failed services.
Some others offer development services, but not technical support for website or server errors.
As a business owner, it's easier and far less time consuming to get a single provider who can take care of everything you'll need to maintain your site. It includes:
24/7 website and server monitoring
24/7 emergency support to restore failed services or security issues.
Website maintenance services like updates, patching, backups, etc.
Hosting management help like setting up mail accounts, DNS configuration, etc.
Website tech support such as fixing DB errors and Web errors.
Small development tasks like theme changes, style changes, font updates, etc.
Server software maintenance like OS updates, performance tuning, etc.
Security administration like malware cleaning, firewall maintenance, spam mitigation, etc.
SEO advice and optimization
You may need all of these, or a few among these, but either way you can save a ton of time if you choose a company that can be your single point contact for everything related to website maintenance.
4. Are their operations secure?
The most common way for hackers to breach a website is by stealing login details from insecure browsers or computers.
A webmaster who is lax in securing their computer or the network can expose your site and customer data to hackers.
There are industry standard security protocols that dictates how to prevent unauthorized access, information disclosure and modification. See if the company you consider has such systems in place.
For instance, at Bobcares, we store all our customer data in encrypted disks and access is restricted to only those engineers who's assigned to manage a website. The work stations are hardened and updated on a regular basis.
This whole process is audited once a year by external security specialists to grant us the ISO 27001:2013 certificate.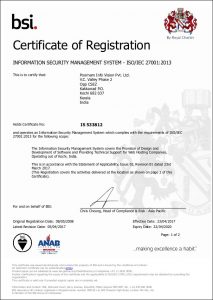 5. Where is the business located?
Many companies feel unsure about engaging a website support company because they don't know how they can hold the provider liable should they not deliver on their contract, or cause damages.
That's why it's important to have a legally bound agreement with a provider that has valid US business.
For example, Bobcares runs part of our support operations from USA under the registered company Poornam Inc. All legal contracts are signed under this company name, that guarantees our customers a 100% trustworthy association.
So, when considering a company:
See if the company has a registered office in your country.
See if it is a token presence or a fully operational center.
Conclusion
Keeping a website business ready is a lot of work. You need a competent webmaster to guide you and to keep your site safe, fast and updated. However, not all webmasters are created equal. Today we've seen how  to choose the right website support company for your business.