We help you setup and operate a tech support team that takes care of your entire server infrastructure and supports your customers 24/7.

Dedicated Support Plan
As low as
$12.99
/hour
Our experts function as your own staff. We take care of your servers and support your customers over help desk, live chat & social media – 24/7/365.
Customized coverage
You may want a helping hand during business hours, or want someone to take care of business when you are not in office. With dedicated support, you can customize how many hours of support you need (4 -24 hours /day).
100% white labeled
Our techs use your support desk and your company's email signatures so that your customers feel they are talking to your own staff.
Multi channel support
We can support your customers over Email, Helpdesk, Live chat or even social channels.
Server monitoring & quick response
We won't let your servers crash on our watch. Our server techs are experienced in emergency administration, and will recover a failing service before it can affect your customers.
Billing and pre-sales support
Account renewals, new account hand-holding and pre-sales enquiries via live chat are a few of the common tasks we take care of.
Server setup and provisioning
New server provisioning can be time consuming. Our team is experienced in setting up new servers with custom configuration, and can complete them in as low as 20 minutes.
Cloud and virtual server management
From resource management to VM migrations, we routinely handle a wide range of Cloud and Hypervisor related tasks.
Server maintenance (security, speed, updates)
From patching the latest vulnerabilities and timely software updates to regular performance tune-ups and backup management, we take care of everything that's needed to keep your servers rock solid.
Server reputation management
We closely monitor domain and IP blacklists to make sure none of your servers are reported for abuse. If your IP is listed somewhere, we quickly de-list the IP, and secure the server to prevent a similar issue.
Vendor and 3rd party management
Our experts can help you reduce costs and keep track of your expenses in servers, software license bills, bandwidth bills and so on. We'll help you identify better alternatives if something doesn't make business sense.
On demand server administration
You may occassionaly need help with a special software install, or troubleshooting your business website. We can help you with all that. Just send a message.
Weekend Warrior
$14.99/hr
Recommended for companies that need tech support coverage over the weekend.
48 hours trial. No card required.
Any two days a week
Now the weekends can be fun again. Choose the weekend or any two continuous days of the week. It just has to be the same days every week.
Full time Ninja
$12.99/hr
Recommended for companies that need full time tech support experts for business hours or nights coverage.
7 day trial. No card required.
Any five days a week
Our full time dedicated ninja will be able to manage your support operations during business days or any 5 days per week.
The full Squad
Recommended if you need one server admin available at all times. Perfect for24x7 operations.
7 day trial. No card required.
24x7 team
24×7 availability is the gold standard for any support operation. We'll ensure that an expert server admin will be available at any given time supporting your customers and servers.
That's not all!
All plans include:
 Help desk & Live chat support
 Business/Tech consultation
 Complete server management
Looking for a support combination that's not listed above? We can build a custom support package for you.
Support customized for your company
Dedicated support is literally a support team to your company. You can customize all aspects of how this team functions. For example, you can choose to have techs with a particular area of expertise, like Linux administration. Or you can set a specific response time for the support tickets.
You have the full control. Just let us know what you want to customize, and we'll make it happen.
Certified support quality
We're committed to delivering top-notch support quality. We re-invest 5% of our revenue in an ISO 9001:2015 certified QA system, where experts analyze 100s of tickets per month to continually improve support quality.
Support operations management
We have over 15 years of experience in managing server infrastructure and supporting hosting customers. If you want more time to focus on your core business, we can help you out by taking care of the entire support operations and server management.
Certified information security
We care about the security of your information. Which is why chosen the toughest security standard for hosting industry, ISO 27001:2013, to protect your customer info, server logins, service agreements, and more.
Engineering services based in India

Our support team based in Cochin, India takes care of help desk support, live chat support and server management services. Over 250 service providers rely on this team to keep close to 47,000 servers rock solid, and to resolve over 52,000 support queries per month.

With an average resolution time of 23 minutes, this team resolves 97% of support queries within 1 hour, and consistently achieves a customer happiness rating of 93% in customer surveys.

Our experts monitor your servers and support queue (email, chat & phone) 24/7. When a new support query comes in, we resolve the issue, and respond to your customers through your support system, thereby maintaining 100% transparent support.

1 We monitor your support queue & servers 24/7, so that we're immediately notified of new customer queries or server issues.
2 Our experts respond to your customers from your support system, and fix the issue within a few minutes.
3 Servers are audited regularly to solve performance, security or other issues to minimize customer complaints.
Happy customers remain loyal, and bring in more business
Bobcares turned the tide of negative reviews of a UK web host – with just TWO changes in support strategy.
Linux or *nix
Redhat / CentOS / Fedora
Debian / Ubuntu
FreeBSD
Cloud Linux
Windows
Server 2008 / 2012 / 2016
Office 365
Web servers
Apache
Nginx
Litespeed
IIS
Varnish
Database servers
MySQL
MSSQL
MariaDB
PostgreSQL
Galera / NDB
VPS systems
Hyper-V
KVM
Proxmox / LXC
OpenVZ
Xen
Virtuozzo / Parallels Cloud
SolusVM
Virtualizor
Cloud systems
VMWare
OnApp
AWS
oVirt / RHEV
Control panels
cPanel/WHM
Plesk
Direct Admin
InterWorx
ISP system
..and more
Web apps
WordPress
Magento
Joomla
DNN
..and more
Billing / Ticketing
WHMCS
OTRS
HostBill
SalesForce
..and more
What our customers say about us
15 years with Bobcares and counting
We at 1stHostWeb.com have been with Bobcares for over 15 years and it was the absolute best decision we made. They are not just another tech service but more of a partner. If you want a support STAFF that will represent your company with expert knowledge and compassion…look no further. Bobcares is all you need!
Glen Lee
Great partner for remote-hands work
I am very happy with the services provided for our SaaS security products by Bobcares – we have found them to be a great partner for all support activities and remote-hands work. I would totally recommend this team!
Anirban Banerjee
I now spend more time with my family
Since using Bob Cares we have had fewer customer's cancel accounts, and have had more new sign ups than ever before.
Best of all I have more time to spend with my family. BobCares goes above and beyond.
Thank you very much for every thing.
Jason Litson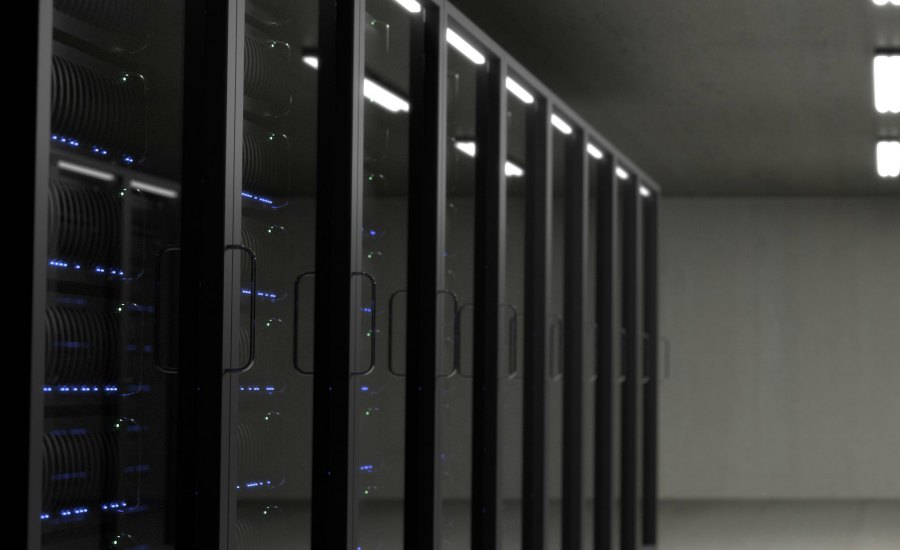 We know web hosting
Our team supports hundreds of web hosting companies like yours, with the support tailored to match their unique needs.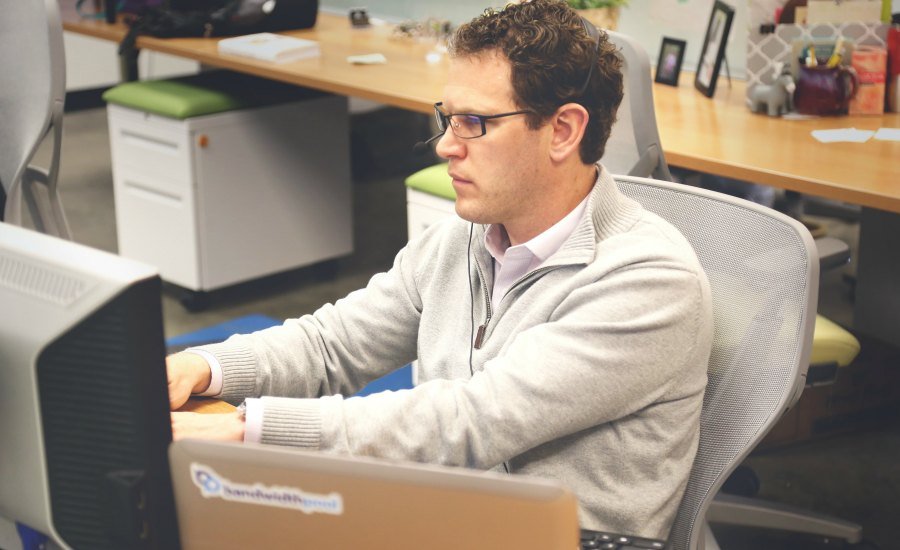 We champion small business
Bobcares started small in 1999 as a small business, and we built our foundation by helping online SMB businesses make their mark. We value entrepreneurship, and empower companies to grow.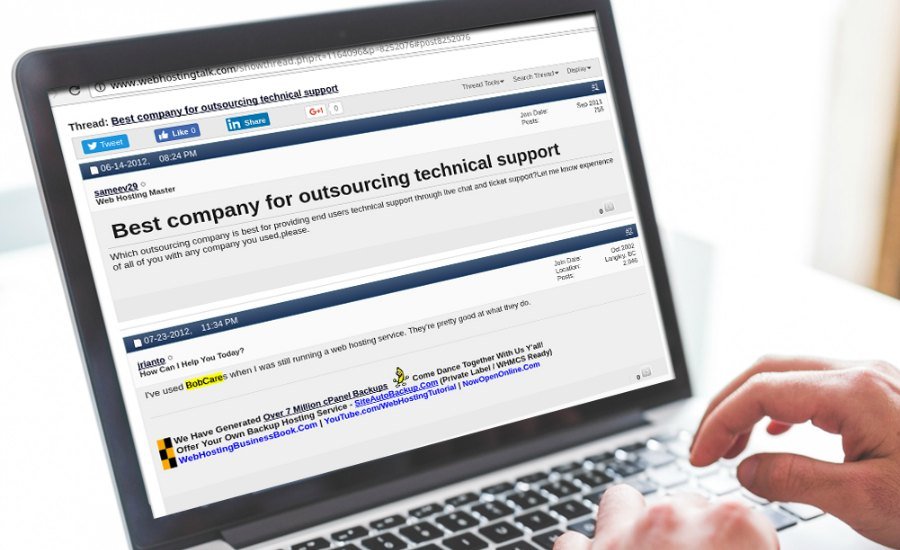 We are trusted
We've been consistently rated the top outsourced support provider for the past 15+ years. Over 250+ customers entrust us to resolve close to 52,000 support queries per month and keep their 47,000+ servers fast and secure.
Frequently asked questions
1. Do I have to train all your support staff?
No. You just need to explain your systems to your account manager. We'll take care of the training and quality management.
2. I have a very customized server setup. Can you support it?
Short answer – Yes.
Long answer – Our teams are formed of experienced computer science engineers. We're not limited by the feature sets of one particular control panel or operating system. So, no matter what technology you use, chances are we'd be able to manage it.
3. Can you list the Help desk software that Bobcares supports?
Most of our customers use help desk software like Kayako ,WHMCS, Ubersmith, Cereberus, OTRS, Assistly, etc.
In case you do not have a help desk installed, we can set one up for you. We will suggest a help desk software that would suit your needs, and install it for a charge of $20.