Want to add additional additional PHP versions to ISPConfig on Centos 7? Read to find out how our Support Engineers get this done!
One of our clients wanted to add the new PHP version to their ISPConfig control panel. Fortunately, with ISPconfig 3, our Server Management team was able to help them out.
Requisites to add additional PHP versions to ISPconfig on Centos 7
In this particular instance, our Engineers installed PHP 7.2 for the client. The prerequisites for the installation includes:
CentOS 6 or 7
Admin access to the ISPConfig3
PHP installation
We use the REMI repository for PHP installation. Add the repository and enter the following:
type: yum install php72-php php72-php-xml php72-php-imap php72-php-pecl-apcu-bc php72-php-opcache php72-php-mysqlnd php72-php-pecl-uploadprogress php72-php-gd php72-php-pecl-mcrypt php72-php-pecl-memcached php72-php-cli php72-php-pecl-yaml php72-php-odbc php72-php-pecl-memcache php72-php-fpm php72-php-intl
Remember to change the prefix for 7.3 or 7.4. For instance, for PHP 7.4 change it to php74-php or to php73-php for PHP 7.3.
So far, you have only added a few useful packages. However, the remaining will be added as and when required.

Configuring ISPConfig
In order to configure ISPConfig, we navigate to the Additional PHP Version menu and edit it to add information as seen below: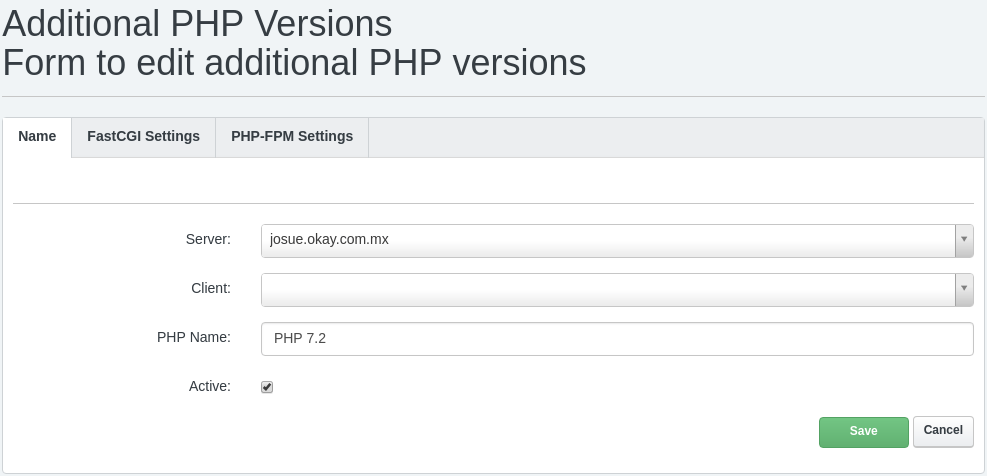 Server: the servername
Client: leave it blank
PHP Name: the label

In the FastCGI binary tab, Path to the PHPFastCGI binary:

/opt/remi/php72/root/usr/bin/php-cgi

Next is Path to php-ini directory:

/etc/opt/remi/php72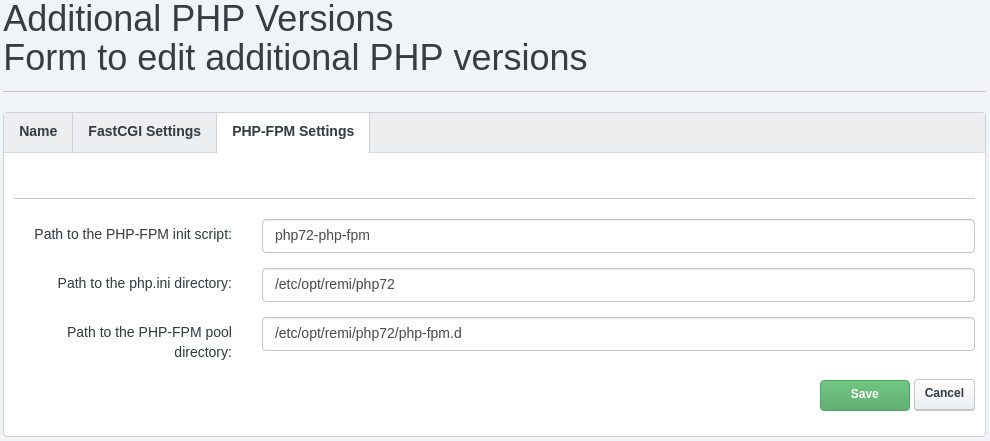 In the PHP=FPM tab, Path to PHP-FRPM init script:

php72-php-fpm

Then, Path to php.ini directory:

/etc/opt/remi/php72

Path to PHP-FRPM pool:

/etc/opt/remi/php72/php-fpm.d
Once we complete this, it will be available on the system. However, we are not done yet.
Configure the new PHP when you add additional PHP versions to ISPconfig on Centos 7
You will find the configuration files under /etc/opt/remi. Here are few things to keep in mind:
In case you plan to use PHP-FHM, edit the www.conf file to change the port number. The default port will already be in use by the default PHP installation.
In case you have tweaked the configuration file for the default PHP, you need to make the same changes here as well.
[Looking for help with Server Management? Give us a call!]
Conclusion
At the end of the day, our Support Engineers showed us how easy it is to add additional PHP versions on Centos 7. If you run into any trouble, you know whom to call!
PREVENT YOUR SERVER FROM CRASHING!
Never again lose customers to poor server speed! Let us help you.
Our server experts will monitor & maintain your server 24/7 so that it remains lightning fast and secure.