Helpdesk Applications for WebHosts
A few days back, a Web Host enquired about available Helpdesks in the market. Having closely associated with the Web Hosting industry, I quickly typed down the names of available Helpdesk systems, including Open source and Commercial Helpdesk Systems.
Later, I thought it best to search for available Helpdesk systems. To my surprise, I couldn't find a single website which gave me information on all the available Helpdesk systems. I decided to simply sit down and write this article.
The first time I came to Bobcares, I heard the word "ticket ". It was common to hear among my colleagues : Hold on .. I have got to handle one more ticket. And then we can go for a coffee. Of course I have heard the word "ticket" before, like train tickets, bus tickets, flight tickets, cinema tickets). It shows that you have paid for admission to a theatre, movie theater, amusement park, zoo, museum, concert, or permission to travel on an airplane, public transit, boat trip, typically because one has paid the fare. But what does that have to do with this engineer working on Web Hosting servers ?
Hire Bobcares Server Administrators
Get super reliable servers and delighted customers
A ticket, in the Helpdesk context refers to a request for help by customers. The main benefit in having a Helpdesk Software, is that it gives you a clear cut idea on the type of issues that appear on your servers, the frequency of their occurrence, how it had been resolved and how much time was spent on the resolution of those issues. All in all, it is a critical part of a Web Hosts business. The choice of the right Helpdesk will help Web Hosts, do a better analysis of Incoming Support requests.
These are some of the features that make a Helpdesk system useful:
* 1) Ability to add staff members for specific area's
* 2) Allowing follow-ups
* 3) Shouldn't be resource intensive
* 4) Should be programmable for your custom needs
* 5) Integrated with a billing software would be very advantageous
* 6) Having separate queues
* 7) A custom header and footer for each support tech logging in
* 9) Search feature available and user friendly
There are a large number of ticketing systems available in the market. Here, we'll do an analysis on each of those Helpdesk systems:
Open Source Helpdesk systems
OTRS ( Open Ticket Request System)
OTRS is the most successful GPL trouble ticket system on the market. OTRS can be run on all popular operating systems. Installation CDs for Linux (SUSE, Redhat and Debian), Windows 2000/2003/XP and Mac OS X 10.x are available in the internet. Belief in the Open source movement and the fact that only Open source software can be 100 % secure and vulnerable, is what prompted the OTRS developers to make it public. Home page – http://www.otrs.com/en/
This software is very easy to install. One of the most remarkable features of OTRS is the ticket workflow feature, which looks very specific to this one. ( tree structure of the support queries ). In addition to that, there are numerous other features like Ticket locking, ticket autoresponders per queue, ticket history, evolution of ticket status and actions taken on ticket, tickets can be bounced or forwarded to other email addresses, ticket can be moved to a different queue (this is helpful if emails are for a specific subject), content fulltext search and different levels of permissions/access-rights. All in all it's a fast and useful application.

PHP Support Tickets
PHP Support Tickets is written in PHP5 and utilises a MySQL database. Both are required on your web server to operate this application. Installation of the Helpdesk is very simple and the entire installation can be completed within 5 minutes. There are 3 levels of users for this ticketing system: Admins, Moderators and Clients. Clients can do self-registration and also see only tickets they have created.
One remarkable feature is that the Refresh button doesn't create duplicates of the tickets and answers. Admins can see and view attachments made by the user, and also add attachments to the replies. Email notifications are sent out for new tickets, answers, users and changes in ticket status and the e-mail notifications can be switched on and off by admin users, as per the needs of their customers.
Home page – http://www.phpsupporttickets.com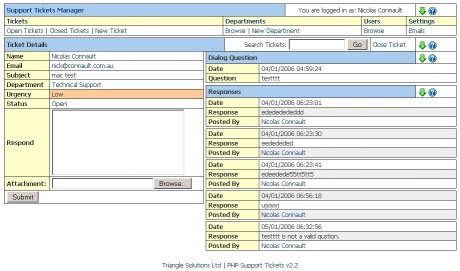 OS Ticket
osTicket is a widely used Open source Helpdesk that uses Perl gateway, PHP, and MySQL database. The support ticket system includes features to create categories (departments), create Represenatives (Supporters) and define groups. It has the ability to handle unlimited emails along with seperate panel for the Admin, supporter and user. It has the ability for users to have attachments along with their support requests however the administrator can limit the size of the attachments. As in the case of the previous ticketing systems, the Support Reps have access to Department only tickets.
Users can login with any email address and they will have the ability to view all tickets sent from that email. OsTicket comes with it's own 3 minute installer to help guide you through the installation process without any frustration. This makes it easier for even non-technical people to use osTicket. First start by changing the permissions of config.php file to 077 and then evoke the installer (setup.php) via your web browser, and simply follow instructions to finish up the installation process.
Home page: http://www.osticket.com
Helpcenter LIVE
This is mainly a Chat software that includes features to incorporate Unlimited Operators, Unlimited Departments and Unlimited Users, and features like Real-Time Chat Sessions, Real-Time Visitor Monitor, Unlimited Chat Sessions and the ability to assign Operators to Mutiple Departments.
Help Centre Live can be fully customised. The best part is that it can be integrated with osticket.
Home page: http://www.helpcenterlive.com/

PHP MySQL Open Source Helpdesk
PMOS (PHP MySQL Open Source ) was earlier sold as the InverseFlow Help Desk. Now it is Open source. The Open source sofware is not provided with any form of support or official development. The free software can be downloaded using the following link:
Download link: http://h2desk.com/pmos/pmos214.zip

TicketSmith
Ticketsmith is an all-in-one web-based email support ticket system. Messages sent to the support email list will be inserted into a database and cataloged for easy viewing on the web. Replies, both staff and customer, are also cataloged, even if the customer uses a regular mail client. Other features include internal staff comments about tickets, fast sorting and searching capabilities, and email notification upon ticket receipt.
Ticketsmith is the open-source support component of Voxel Dot Net's web hosting automation system, Ubersmith. Its a simple, lean and clean software and its simplicity is something which people love. However one drawback of the same is the fact that it doesn't support html emails, and more and more people use them for sending in their support requests.
Home page; http://www.voxel.net/projects/ticketsmith/

Commercial Helpdesk Software
Cereberus
Cereberus is a widely used Helpdesk system that incorporates a number of features like Customizable Ticket Views, Adaptive Anti-Spam Features, Custom Field Groups, Reporting System and E-mail Templates. It also has an integrated Knowledgebase which will help your support staff tremendously.
The ticket display screen shows vital information about an issue, including a customer's past support history, a log of actions performed on the ticket and tracking of your own custom data. These features makes it highly popular among different webhosts.
The free version will allow full functionality with no expiration, but it is limited to a single email address. This is a highly recommended ticketing system which is used by a large number of Datacentres and Webhosts, especially high volume ones.
As has already been mentioned, the Cerebrus ticketing system has the option to store solutions from the experts in the company's knowledge pool, a global body of experience that puts proven solutions in the hands of even the newest team member. Users can browse through a public knowledgebase of articles with frequently asked questions(FAQs) or provide solutions to common issues.
Cerberus relentlessly combats spam and viruses – it even adapts to their latest tricks. It increases productivity by giving each agent the tools necessary to view and manage their e-mail workload according to their special role. In addition to all this it helps the hosting company owner to set response time targets to ensure that the customers are receiving timely solutions that meet or exceed their expectations. It helps in providing the customers with a public, web-based Support Center which seamlessly embeds into the existing website. The system has also been load tested with over 4.7 million concurrent e-mail messages.
Home page: http://www.cerberusweb.com
All in all, its a highly recommended ticketing system.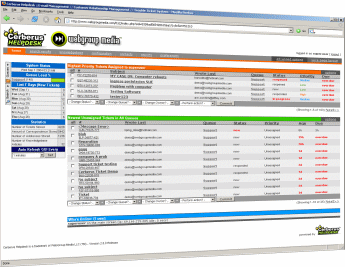 Support Trio
SupportTrio is an integrated support solution that effectively manages and controls your support traffic. It includes a number of features : Templates , integrated spell check, reports and integrated knowledge base.
SupportTrio allows you to easily track, manage, and respond accurately to your visitors support queries. It eases your support load and provides better support management. The user and the visitor can track and update support tickets through a centralized location. The tickets are archived and can be accessed at a later date. Support trio allows opening tickets by email (if you choose) and allows email – email communication (IE: Both sides using their own email clients while SupportTrio logs all of the emails/ticket posts for future reference).
Unlike many other help desks you decide what requirements, if any, must be met before a user can open a ticket. You can set it to no registration required which will allow anyone to open tickets without having to go through the hassle of registering. You can have the system set to have registration required so that all users must register before submitting a ticket. Or you could allow both. So the users that do not wish to register do not have to. And the users wishing to register can do so as well and use the benefits of having a registered account.
SupportTrio will conduct spam filtering and the administrator can set what it should check and when to declare it spam. Its also allows the administrators to easily customize their templates and even modify the code (such as ticket id format, etc.).
The most striking feature is the ability to fully perform ModernBill integration. SupportTrio moves beyond the standard help desk with such features as a comprehensive calendar, to-do list, email users which helps the different teams and departments to collaborate and work effectively.
Home page: http://www.activecampaign.com/supporttrio/

Kayako SupportSuite
If you are willing to pay for a support helpdesk, kayako is definitely a good option for you. There are a number of features incorporated with the kayako support suite which makes it irreplaceable. Its being used by a large number of small and large webhosts. Some of the remarkable features include AJAX based Rich User Interface which displays realtime results from the knowledgebase to the end-users, before they submit their issues. The support staff can also easily reference Knowledgebase Articles or Download Items when replying to tickets.
In addition to all these advantages, the ticketing system has ModernBill integration and also a viewshare feature allowing the users to guide their clients in realtime, staff to staff voice chats, work schedules and escalations and the Teamwork module allowing them to create shared Events, Contacts and Tasks. There are also detailed reports and analytics which are very useful for the webhosts to do an analysis of their customer requests and complaints and how the support staff handles these queries. Only a few of the features have been named out here.
Home page: http://www.kayako.com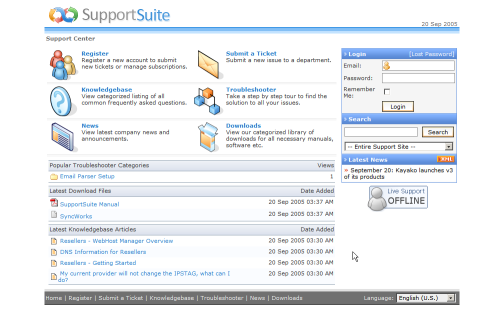 This is also another highly recommended support suite used by a large number of webhosts today.
H2Desk
This is a fully-supported and developed help desk which can be purchased from the following webpage.
Home page: http://www.heathcosoft.com/h2desk/
H2desk is easy to use and install, and it can be used within minutes. Customers can create tickets without having to go through a painful account creation process. The staff members can create an unlimited number of departments, each with their own custom fields, powerful auto-replies, and assigned staff personnel. The support tickets can be created through a simple web interface and be imported from POP3 email accounts. There is a powerful built-in knowledge base system allows your customers to find answers to common problems. The look and feel of the helpdesk can be easily customised by editing style sheets and template files. It is possible to generate extensive statistics for departments, users, peak usage times, and more.
SitePanel3
SitePanel3 is a fully-featured enterprise level support and information centre for businesses and their clients. The system is designed to be extremely user-friendly but at the same time allows experienced users, a multitude of advanced options, allowing them to fully leverage the power and range of features the system has to offer.
SitePanel3 is extremely easy to install, very little configuration is required. So it is possible to have the new helpdesk system up and running in as little as 5 minutes. The system only makes use of common server software and PHP modules to ensure correct operation on any web server.
SitePanel3's configuraton system allows you to easily make changes to the way the entire system works, from configuring how email is sent to creating custom fields and departments. You can even customise the user interface and define different email templates, complete with custom variables, for each ticket department.
With SitePanel3's proprietory templating system, the user can fully customise your end-user's interface allowing them to personalise the system with their company's own branding and colour scheme. The templating system is extremely easy to use but at the same time provides many advanced options and functions.
There is an advanced integrated knowledge base which provides the end-users with a quick reference allowing them to resolve simple problems themselves, thus decreasing the work load of the support staff. The SitePanel3 knowledge base features unlimited tiering, full-text boolean searches , a user comments and post rating system – complete with full moderation options and even allows you to attach important files to your posts.
They have an integrated spellchecker as well.
Home page: http://www.sitepanel3.com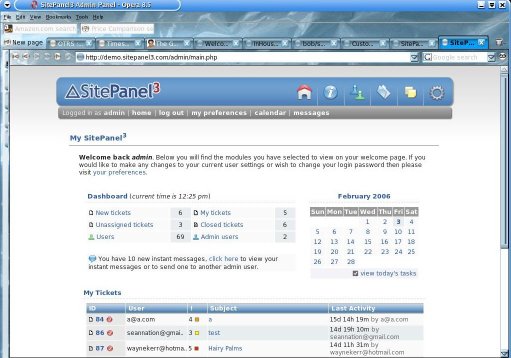 ClientExec
ClientExec works great as billing software and trouble ticketing software. It helps the webhosts to manage and support their clients very efficiently.
Some of main features of the Clientexec system is that new tickets can be assigned or reassigned to specific administrators. The ticket priorities are customised and the ticket priorities are displayed with color codes for quick action. The submission time and date are displayed and the hosting company owner can view elapsed time from each point of action.You can optionally notify client by email with each status change or reply.
Home page: http://www.clientexec.com/
Account Lab Plus
Account Lab Plus is a billing software which can be used by Webhosts. It is affordable but not cheap. It can be integrated with a number of payment gateways like 2Checkout, Authorize.net, PayPal, Moneybookers, e-Gold, ProxyPay, WebMoney Transfer and offline payments such as checks or bank transfer. In addition to that it has the option for support tickets as well. It can be integrated with a number of control panels – like cPanel, Plesk and Directadmin.
Home page: http://www.netenberg.com/accountlabplus.php
Articles by Susy William
About the author:
Susy William works as Quality Manager and Member Executive Team in Bobcares