How to fix MySQL high CPU usage
Almost all open source web applications use MySQL as its database. It's easy to use and is supported by all hosting providers. However, many websites often face performance issues due to MySQL high CPU usage.
MySQL databases grow in size, and tables get fragmented over time. This contributes to MySQL load spikes. So, protecting a website from MySQL high CPU issues requires close monitoring and periodic optimization.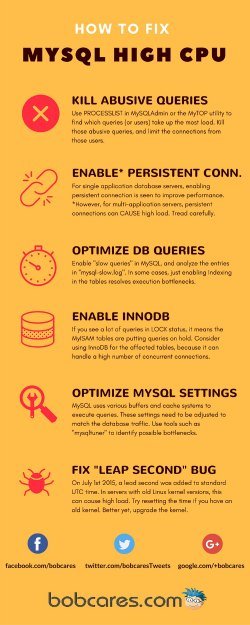 At Bobcares Preventive Server Maintenance Services, there are 3 key operations involved in keeping MySQL stable:
24/7 monitoring
A vulnerability in MySQL settings is usually revealed when there's a spike in server traffic. So, it is important to keep a close watch on MySQL metrics round the clock. Our experts monitor MySQL health 24/7, and react when there's an issue.
Emergency rescue
When we detect an anomaly, like slow MySQL response times, we immediately login to the server, kill the abusive connection, and restore normal operating speeds.
Follow-up audit & optimization
However, rescuing MySQL is just the first step. We then audit MySQL settings to see WHY a response issue happened in the first place, and then optimize the tables and tweak MySQL settings so that it won't happen again.
Today, we'll take a look at how we react to a MySQL high CPU situation, and what we do to prevent its recurrence.
MySQL pulling down your server?
How to detect MySQL high CPU usage
Very often people link high server load to high CPU usage. That is not always true. Server load can go high due to bottlenecks in any resource. This can include memory, disk I/O, network or CPU.
The top reason for MySQL induced server load is due to memory or I/O exhaustion. If it is CPU bottleneck, the output of top would look like this:
top - 8:31:15 up 23 days, 3:33, 1 user, load average: 22.31, 19.72, 25.02
 Tasks: 81 total, 5 running, 76 sleeping, 0 stopped, 0 zombie
 

Cpu(s): 87.8%us, 0.3%sy, 0.0%ni

, 11.2%id, 0.0%wa, 0.2%hi, 0.5%si, 0.0%st
 Mem: 2975920k total, 1018219k used, 1957701k free, 287408k buffers
If it is I/O induced bottleneck, the %wa (called wait average) will have the highest CPU%. In contrast, if it is a memory induced load, the "free" memory would be limited to just a few MBs.
Click here to know how to fix a MySQL high memory usage situation.
[ You don't have to be a MySQL expert to keep your sites fast and stable. Don't let MySQL ruin your server stability. Click now for an immediate solution from our server experts.]
PREVENT YOUR SERVER FROM CRASHING!
Never again lose customers to poor server speed! Let us help you.
Sign Up once. Enjoy Peace Of Mind For Ever!
Bobcares provides
Outsourced Web Hosting Support
and
Outsourced Server Management
for online businesses. Our services include 24/7 server support, help desk support, live chat support and phone support.