Stuck with your SolusVM FTP backup failed? We can help you!
Often our customers report to us that their autoFTP backup failed in SolusVM. Here at Bobcares, we handle similar requests from our customers as a part of our Server Management Services.
Today let's see how our Support Engineers fix this for our customers with SolusVM
How to fix SolusVM FTP backup failed
Before going into the steps for fixing this error we will see what causes it.
Causes:
1. At times it could happen when the AutoFTP Backup fails to start.
We will be able to see the following error in the AutoFTP Backup log.
This log can be found by going to  SolusVM and clicking on Nodes. From the list of nodes we must choose the affected node and got to AutoFTP Backup then click on Log.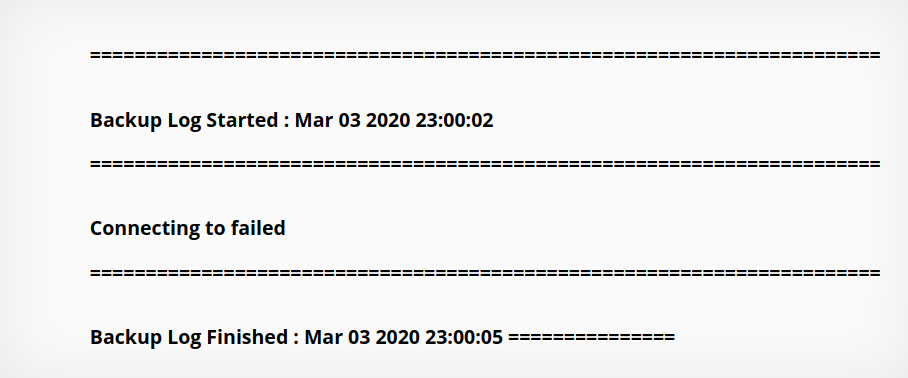 2. And some times the SolusVM AutoFTP Backup does not work even when it's able to connect to FTP server manually from the affected node.
3. It can also happen when AutoFTP fail to start due to Incorrect FTP server credentials.
If the backup do not work even after FTP connection working properly, it can be due to SolusVM bug with ID SVM-3019 which is planned to be fixed in future product updates.
Steps to fix this:
We will see the steps for fixing FTP credentials along with a temporary fix for the above mentioned bug.
Fixing FTP credentials
1. Firstly, we have to Login to SolusVM admin panel
2. Then go to Nodes and choose the affected Node
3. From there go to Auto FTP Backup
4. And finally set the correct FTP server credentials such as IP or Hostname, Username, Password, Port.
Temporary fix for the Bug

We have to change password for FTP user on FTP server as a temporary fix for the bug.
Following are the steps:
1. Firstly we have to login to SolusVM Administrator interface.
2. Then go to Nodes and choose the affected Node.
2. From there go to AutoFTP Backup
3. And click on Password for updating the FTP password.