Leaner is better: 10 ways for hosts to improve business efficiency

Sangeetha Naik, the Co-Founder of Bobcares and Tobby Davasia, Member of the Executive Team in Bobcares, spoke on this topic in WebhostingDay-2008 work.SHOP.
Read the session presentation here
---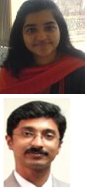 About the authors:
Sangeetha Naik is coFounder and Board member, Poornam Info Vision(parent company of Bobcares.com). She developed software and systems that enabled Bobcares to scale support to 3.5 million websites. She also created and grew the Software services division. She was Management Representative(MR) and instrumental in consolidating ISO 9001:2000 companywide. She has over 8 years of experience in the Web Hosting industry. Currently she oversees Branding and Marketing. She also oversees HR, Finance and Administration divisions.
Tobby Davasia has worked as a Lead Developer at Poornam, before taking the role of Executive Team Member. He has worked in both the Technical, Development and the Training Division of Poornam. He has over 5 + years experience in the WebHosting Industry. He is a regular speaker in conferences related to the Web Hosting industry.