Monitoring RDS Bandwidth Usage by Users with Perfmon is one of the best methods to find out which user session is causing traffic.
At Bobcares we often get requests from our clients to set up this monitoring as part of our Server Management Services.
Today, let's see how our Support Engineers get this done for our customers.
Why Monitor RDS Bandwidth Usage by Users?
In a network, there will be several terminal servers based on Windows Server 2012 R2 with Remote Desktop Services (RDS) role, which connects many users from branches and regional offices.
We can detect, which terminal users sessions generate the bulk of traffic. This happens when users within the RDP session actively upload or download numerous files or send large documents to print through Easy Print.
We cannot completely prevent file transfer between a PC and an RDP server and printing documents over Easy Print, since this will effect users to do their work.
Hence, we can solve the problem by finding users who actively transfer data and consult them personally so that they could effectively organize their work to minimize large data transfer during an RDP session.
Monitoring RDS Bandwidth Usage by Users with Perfmon
One of the methods used by our Support Engineers to monitor RDNS Bandwidth usage by users is by using Perfmon.
Steps to follow are:
1. Open Performance Monitor (perfmon.exe) and add the counter RemoteFX Network/Total Sent Rate(*). It counts the outgoing traffic of a terminal server (B/s).
2. Then select Histogram bar view in the Graph tab if there are a lot of sessions. Specify, say, 100 KB/s (100000) as the value of the vertical scale.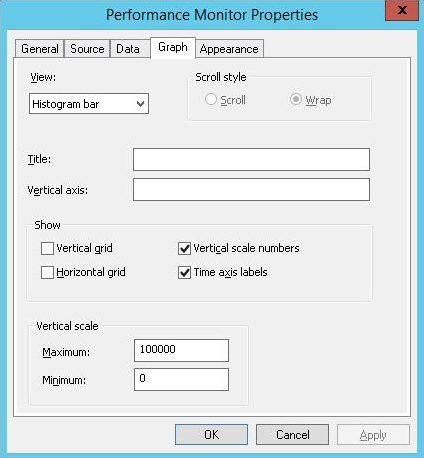 3. We can check the values from maximum column and identify the numbers of RDP sessions sending the largest amounts of data.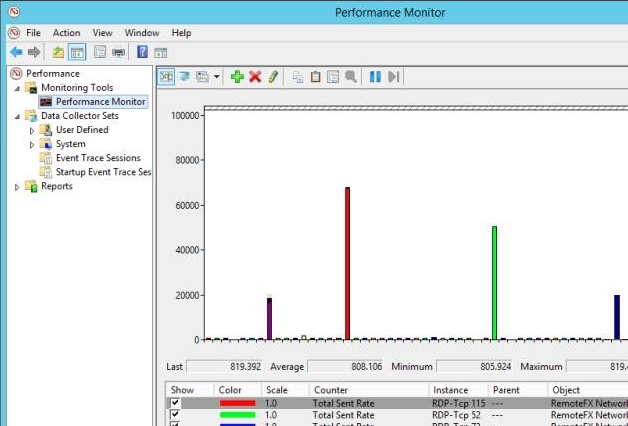 4. Then to compare the number of an RDP session with a user name, we can use qwinsta.exe.
5. Alternatively, we can use RemoteFX Network/Total Sent Rate(*) counter as well.
6. For evaluating traffic during a day/week, we can create a separate group of data collectors counting the incoming/outgoing traffic of user RDP sessions.
[Need further assistance? We are here for you!]
Conclusion
In short, we saw how to monitor RDS Bandwidth Usage by Users with Perfmon. Also, we saw the method that our Support Engineers use.