Stuck with a "PHP extensions Disabled" error on Drupal 8? Let's take a look at what advice the Support Team at Bobcares has to offer.
If you find yourself staring at a "PHP extension Disabled" error while trying to install Drupal 8, you have come to the right place. Dive in to find out more about the solution offered by the experts at Bobcares.
All About "PHP extensions Disabled" error on Drupal 8
Drupal is one of the most widely used free, open source content management platforms written in PHP. The standard release, popularly known as Drupal core, consists of basic features found in most content management systems.
However, you may run into trouble at the "Verify requirements" stage while attempting to install Drupal. You may come across the image below: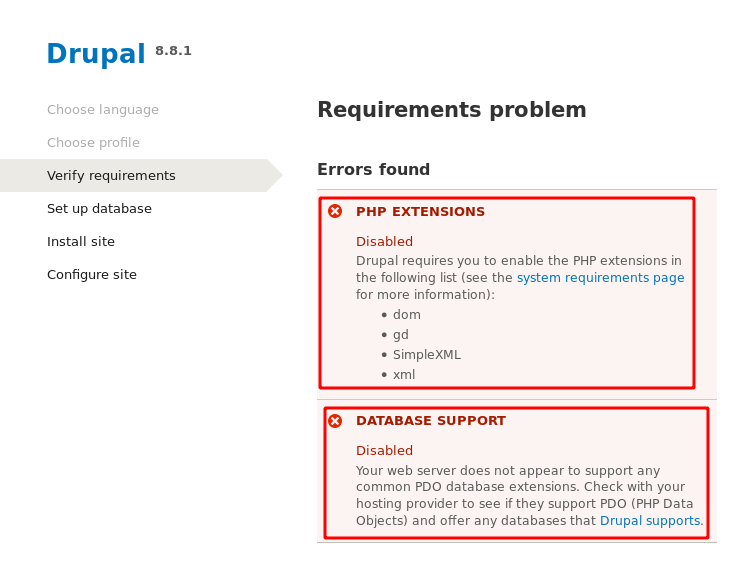 Reason behind "PHP extensions Disabled" error 
According to our Support Engineers, the PHP extensions disables error pops up because the "php5-gd" package is yet installed on your server. You need this extension for the smooth installation of Drupal 8.
In this scenario, we have to install  PHP file, as well as, enable PHP extensions in the next step.
Solution in Debian Jessie 8
Run the following command on the server as root:
apt-get install php5-gd
This automatically loads the "web server config". Next, install Drupal again. If you still get the error, reboot your server.
[Need further assistance? Give us a call.]
Conclusion
In the end, we saw how easy it is to overcome the "PHP extensions Disabled" error on Drupal 8 with help from the experts at Bobcares.
PREVENT YOUR SERVER FROM CRASHING!
Never again lose customers to poor server speed! Let us help you.
Our server experts will monitor & maintain your server 24/7 so that it remains lightning fast and secure.